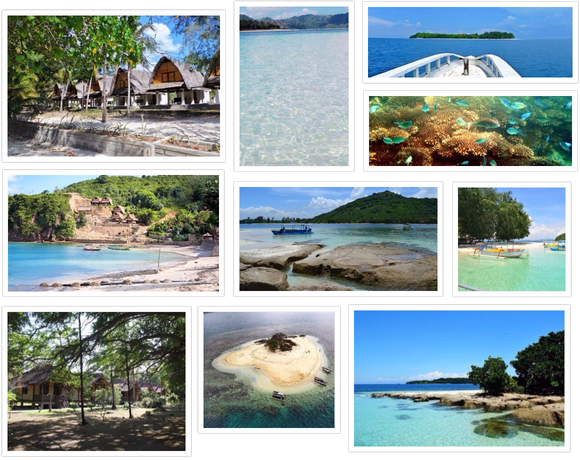 | | |
| --- | --- |
| Price | Contact-Us |
| Facilities | Tour guide, Transportation; Driver, Car, AC, parking. Accommodations; Up to customers. Consume; Up to customers |
| Tips | Include; transportation, tickets. Exclude; snack |
| Meet Point | Lombok, Indonesia |
| Destinations | Gili Nanggu, Gili Kedis, and Gili Sudak |
| Status | Available |
ITINERARY

Departing from Mataram or Senggigi City toward to Lembar Port / Batukijuk / Tawun to cross the strait to Gili Nanggu, Gili Kedis, and Gili Sudak. So, enjoy your full day together with us to boat and get around in these three gilis/islands. These three gilis are very beautiful and have an amazing scenery. Don't miss the beautiful moments in these three paradises. Here you can swim, snorkel, and enjoy its scenery.
The beaches here are white sand and clean, and the sea is very clear. There are several snorkeling locations in Gili Nanggu. And one more thing here is much beautiful fish, so do not forget to bring bread if you want to invite the fish coming to you.
The distance of 'Gili Kedis to Gili Sudak' is not too far away, just a few minutes away by boat. In Gili Sudak, you will find many cottages fairly luxurious. There is a restaurant with dining tables meet the coast. If you want, you can have lunch here. But if you do not want to eat here is not a problem, visitors may just sit in the seats without having to order food.


Passing :
Lembar Port
Senggigi Road

Destination :
Gili Nanggu
GIli Kedis
Gili Sudak

If you want a Custom Trip Please tell us and suggest us your plan. For example we can pass Batu Bolong Temple. If you want and plan to stop at this temple, you can take a Custom Trip, just call and suggest us. We recommended the best, but we are flexible.



(in Bahasa)
Di mulai dari Kota Mataram atau Senggigi, kita menuju Pelabuhan Lembar. Kemudian menyebrangi selat menuju Gili Nangg, Gili Kedis, dan Gili Sudak. Nikmati seharian penuh bersama kita untuk naik perahu dan mengelilingi tiga gili yang eksotis. Suasana dan pemandangan di tiga gili ini sangat menyenangkan. Jadi, jangan lewatkan momen-momen indah di tiga surga ini. Di sini, Anda bisa berenang, snorkeling, atau hanya sekedar menikmati pemandangan dan suasananya.
Pantai-pantai di sini memiliki pasir yang putih dan bersih, dan lautnya sangat jernih. Ada beberapa lokasi snorkeling di Gili Nanggu. Dan satu hal lagi, di sini banyak ikan-ikan hias berenang, jadi jangan lupa untuk membawa roti jika Anda ingin didekati ikan-ikan tersebut.
Jarak dari Gili Kedis menuju Gili SUdak tidak terlalu jauh, hanya beberapa menit menggunakan boat. Di Gili Sudak, Anda akan mendapatkan banyak penginapan yang mewah. Di pantainya, banyak meja-meja dan kursi-kursi untuk makan yang disediakan oleh beberapa restaurant di sana. Jika Andamau, Anda bisa makan di sini sambil menikmati suasananya. Namun jika Anda tidak mau makan atau sudah membawa bekal sendiri tidaklah masalah, pengunjung diperbolehkan duduk di kursi dan menggunakan meja tanpa harus memesan makanan di restaurant.
Melewati :
Pelabuhan Lembar
Jalanan Senggigi

Tujuan :
Gili Nanggu
Gili Kedis
Gili Sudak
Jika Anda ingin Custom Trip silahkan hubungi kami dan sarankan rencana Anda kepada kami. Misalnya, dalam trip ini bisa saja lewat Pura Batu Bolong. Jika Anda ingin dan berencana untuk berhenti ataus ekedar mampir di Pura Batu Bolong, Anda dapat mengambil Custom Trip, Paling mudah, cukup hubungi kami via WA atau pesan facebook. Kami merekomendasikan yang terbaik, tapi kami fleksibel.