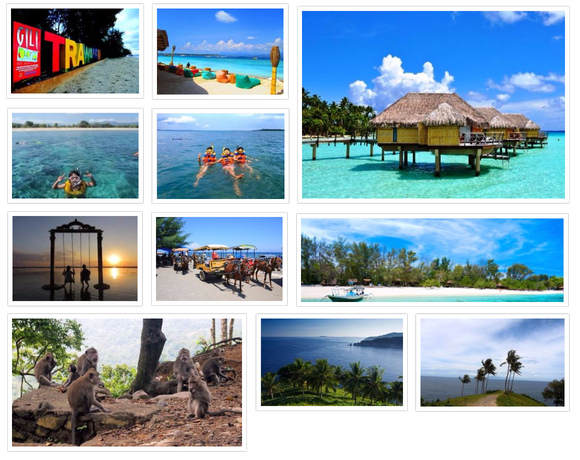 | | |
| --- | --- |
| Price | Contact-Us |
| Facilities | Tour guide, Transportation; Driver, Car, AC, parking. Accommodations; Up to customers. Consume; Up to customers |
| Tips | Include; transportation, tickets. Exclude; snack |
| Meet Point | Lombok, Indonesia |
| Destinations | Malimbu Hill, Gili Trawangan, Baun Pusuk Monkey Forest, Shopping Place |
| Status | Available |
ITINERARY
Tour to
Gili Trawangan
; before arriving at Gili Trawangan, on the way you will be recommended to enjoy the beauty of
Malimbu Hill
; that famous with its beautiful view that leads to the three Gilis namely; Gili Air, Gili Meno and Gili Trawangan, here you can take pictures while enjoying the atmosphere of the bay with the clarity of the seawater-like crystals.
Next, go to the port to cross to Gili Trawangan by boat that we have provided. The crossing will take approximately 30 minutes. Upon arriving at Gili Trawangan, agenda-free, it's up to you. You can do everything you want. The wide selection of activities that you can do there such as; Snorkeling, Diving, Glass Bottom Boat, biking around the island and various other water sport, or maybe you just want to enjoy the atmosphere there and relish the scenery until time for lunch, and you have a nice lunch at the restaurant that we have provided.
Once satisfied traveled in Gili Trawangan, then it is time to back to Lombok to do the the next tour to
Monkey Forest Baun Pusuk
that famous with friendly monkey travel, In here you can feed the flock of monkeys -are funny and have been accustomed to the arrival of the tourists- while enjoying the beauty of the coast from the mountain peaks.
Furthermore, on the way to the hotel, we will pass through
shopping area
of typical souvenirs such as Lombok Foods, Lombok Clothing, Lombok Pearls that are famous with its high quality and low prices. When you satisfied shopping, then you will be escorted to the hotel/meet point.
If you want a Custom Trip please tell us and suggest us your plan. You can take a Custom Trip thru calling us. We recommended the best, but we are flexible.
Passing :
Senggigi-Pemenang Road
Gili Air Side
Gili Meno Side
Destination :
Malimbu Hill
Gili Trawangan
Souvenirs Shopping Area
(in Bahasa)
RENCANA PERJALANAN :
Tour ke
Gili Trawangan
; Dalam perjalanan menuju Gili Trawangan, Anda akan dianjurkan untuk menikmati keindahan
Bukit Malimbu
-yang terkenal dengan pemandangan indah yang mengarah ke tiga Gili yaitu; Gili Air, Gili Meno dan Gili Trawangan,- di sini Anda dapat berfoto-foto ria sambil menikmati suasana Teluk dengan air laut laut yang jernih seperti kristal.
Setelah puas dengan Bukit Malimbu, perjalanan dilanjutkan ke pelabuhan untuk menyeberang ke Gili Trawangan dengan perahu yang telah kami sediakan. Penyeberangan akan memakan waktu sekitar 30 menit. Setelah tiba di Gili Trawangan, agenda-bebas, terserah Anda. Anda dapat melakukan segala sesuatu yang Anda inginkan. Berbagai pilihan kegiatan yang bisa Anda lakukan di sana seperti; Snorkeling, Diving, Glass Bottom Boat, bersepeda di sekitar pulau dan berbagai olahraga air lainnya, atau mungkin Anda hanya ingin menikmati suasana di sana dan menikmati pemandangan sampai waktu makan siang tiba, syah-syah saja. Dan ketika waktu makan siang tiba, Anda akan diberitahu untuk makan siang di restoran yang telah kami sediakan .
Setelah puas berwisata di Gili Trawangan, maka saatnya kembali ke Lombok untuk melakukan tour berikutnya, yaitu ke
Hutan Monyet Baun Pusuk
yang terkenal dengan wisata monyet-ramahnya, Di sini Anda dapat memberi makan kawanan monyet -yang lucu dan telah terbiasa dengan kedatangan para wisatawan- sambil menikmati keindahan pantai dari puncak pegunungan.
Selanjutnya, dalam perjalanan ke hotel, kita akan melewati
tempat belanja souvenir khas Lombok
seperti Makanan Khas, Busana Lombok, sampai Mutiara Lombok yang terkenal dengan kualitas tinggi dan harga rendah. Setelah Anda puas berbelanja, maka Anda akan diantar ke titik bertemu (meet point) atau bisa juga di antar ke hotel sesuai kesepakatan.
Melewati :
Jalanan Senggigi-Pemenang
Sisi Gili Air
Sisi Gili Meno
Tujuan :
Bukit Malimbu
Gili Trawangan
Tempat Belanja Souvenir
Jika Anda menginginkan Custom Trip silahkan beritahu kami rencana Anda. Anda dapat mengambil Custom Trip dengan cara menghubungi kami. Kami merekomendasikan yang terbaik, tapi kami flexible.