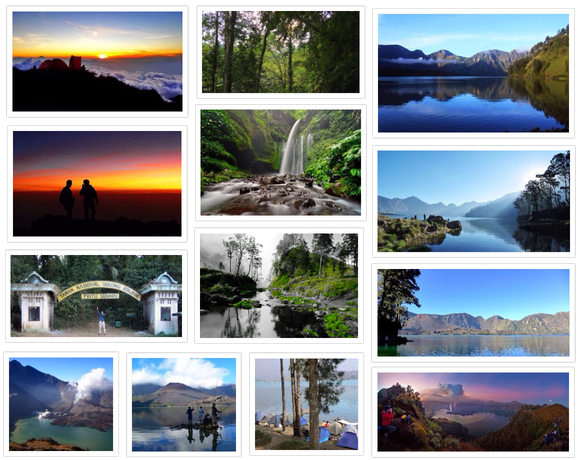 | | |
| --- | --- |
| Price | Contact-Us |
| Facilities | Tour guide, Transportation; Driver, Car, AC, parking. Accommodations; Up to customers. Consume; Up to customers |
| Tips | Include; transportation, tickets. Exclude; snack |
| Meet Point | Lombok, Indonesia |
| Destinations | Senaru Crater and Lake, Sendang Gile Waterfall, Tiu Kelep Waterfall, etc. |
| Status | Available |
Trekking to the crater for 2-days 1-night. The journey begins from the Senaru Village to the rim of the crater. Then on the second day, straight back to the Senaru Village.
ITINERARY:
Day of arrival: We will pick you up at Lombok Airport or anywhere else on the Lombok Island and then transfer to the hotel in Senaru. Here, you will be given guidance by climbing guides or professional trekker to be better prepared in the course of the next day.
Day 1:
6:30 AM is breakfast time. After breakfast, we walk about 10 minutes to Rinjani Trek and Information Center to register.
The trekking starts from Rinjani Trek and Information Center on 08:00 AM, we walk through the tropical forest which is rich in various species of flora, insect, bird and a variety of butterflies. We will stop at 2nd shelter (Montong Satas Shelter, 1.500 meters above sea level) to break and to enjoy a cup of tea and biscuits. After the break, the trekking continues for 2 hours to 3rd shelter (Mondokan Lolak Shelter, 2.000 meters above sea level) for breaks and lunch.
After lunch, we leave the 3rd shelter and continue trekking to the Senaru Crater (2.641 meters above sea level) for 2 hours. Senaru crater is one of the highest lakes in the world, it has the most spectacular and exotic view from the summit. We will enjoy the beautiful sunset from this place as well as a view of Mount Agung in Bali and also fumes from the new volcano which is located on the edge of the lake. And the night, we camp here and enjoy the night until the next day.
Day 2:
After breakfast, photo hunting and enjoy a beautiful sunrise, we leave Mount Rinjani to go down to the Senaru Village through the rainforest. If we are lucky, we can see the rare black monkey. It takes about 5 hours drive and we'll have lunch on the trip. Arriving in the Senaru Village (601 meters above sea level), you go to the next destination using the car that we have provided before.
This package includes:
Pickup from any location on the Lombok Island and then transfer by private car to Senaru and Sembalun.
Accommodation in a comfortable hotel in Senaru for one night before embarking on trekking.
Quality camping equipment: tents, mats, sleeping bags, toilet tents.
Experienced English-speaking guide and professional porters.
The entrance fee to the Mount Rinjani National Park.
The entrance fee to the tourist attractions Sendang Gile Waterfall.
A visit to Sendang Gile Waterfall.
Dinner on the day of arrival.
Meals, snacks, fruits, beverages for trekking.
Transportation and driver to trip to the next destination.
The boat to go to Gili Trawangan, Gili Meno or Gili Air.
If you require further information, please contact us via WhatsApp or Facebook Page.
(in Bahasa)
Paket trekking ke kawah 2-hari 1-malam. Perjalanan dimulai dari desa Senaru ke tepian kawah. Kemudian pada hari kedua, langsung kembali lagi ke desa Senaru.
ITINERARY :
Hari kedatangan : Kami akan menjemput Anda di Bandara Lombok atau di tempat lain di pulau Lombok dan kemudian transfer ke hotel di Senaru. Di sini, Anda akan diberikan bimbingan oleh pemandu pendakian agar lebih siap dalam perjalanan besoknya.
Hari ke-1:
Pukul 6:30 AM waktunya sarapan. Setelah sarapan, kita berjalan sekitar 10 menit ke Pusat Trek dan Informasi Rinjani Senaru untuk mendaftar.
Trekking Rinjani dimulai dari Pusat Trek dan Informasi Rinjani Senaru sekitar pukul 08:00 AM, kita berjalan melalui hutan tropis yang lebat dan kaya akan keanekaragaman flora, kehidupan burung dan berbagai kupu-kupu. Kita akan berhenti istirahat di Pos 2 Montong Satas Shelter (1.500 mdpl) untuk menikmati secangkir teh dan biskuit. Setelah istirahat, pendakian dilanjutkan selama 2 jam ke Pos 3 "Mondokan Lolak Shelter" (2.000 mdpl) untuk istirahat dan makan siang.
Setelah makan siang, kita meninggalkan Pos 3 dan melanjutkan trekking sampai Kawah Senaru (2641 mdpl) selama 2 jam. Kawah Senaru memiliki pemandangan paling spektakuler dari puncak. Kita akan menikmati sunset yang luar biasa dari atas sini serta pemandangan Gunung Agung di Bali dan asap dari gunung berapi baru yang berada di tepi danau sampai malam dan kamping di sini sampai hari hari berikutnya.
Hari ke-2:
Setelah sarapan dan menikmati Matahari terbit yang indah, kita meninggalkan Gunung Rinjani untuk turun ke desa Senaru melalui hutan hujan. Jika kita beruntung, kita bisa melihat monyet hitam yang langka. Dibutuhkan sekitar 5 jam perjalanan dan kita akan makan siang di perjalanan. Tiba di Desa Senaru (601 mdpl), mobil akan membawa Anda ke tujuan berikutnya.
Paket ini meliputi:
Penjemputan trekker dari lokasi manapun di pulau Lombok dan kemudian diantar dengan kendaraan pribadi ke Senaru dan Sembalun
Akomodasi di hotel yang nyaman di Senaru untuk satu malam sebelum memulai trekking
Peralatan kamping yang berkualitas: tenda, tikar tidur, kantong tidur, tenda toilet
Pemandu berbahasa Inggris yang berpengalaman dan porter profesional
Kunjungan ke Air Terjun Sendang Gile
Biaya masuk ke Taman Nasional Gunung Rinjani dan biaya masuk ke tempat wisata Air Terjun Sendang Gile.
Semua makanan, makanan ringan, buah-buahan, minuman untuk selama trekking dan makan malam pada hari kedatangan
Transfer pada akhir perjalanan Anda ke tujuan berikutnya
Perahu untuk ke Gili Trawangan, Gili Meno atau Gili Air.
Jika Anda memerlukan informasi lebih lanjut, silahkan hubungi kami via WhatsApp atau Facebook Page.